"Art, Illustration, a sketchbook;
a good movie, a Stout, a outdoor week-end;
two eyes and my right hand."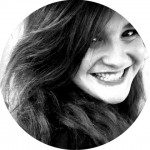 Hi! I'm Tiziana. I'm an Art Director now based in Milan, Italy.
I was born in 1993 in a little town in the middle of country.
I've been drawing since I was a child and I followed this passion all my life: Visual Design it's really alike drawing, animating, having ideas, creating new images, illustration,  pictures and using my hands to do it.
After my studies in Art School I decided that Visual Arts and Art Direction had to be my path!
Then I bought a drawing board, a computer and, without leaving paper, I start working with them.
I started my adventure in NABA, Nuova Accademia di Belle Arti in Milan. There I've understood how illustration and art direction could be versatile. Then, I tried!
First-class honours degree!
And here I am. Catapulted in the Communication, Illustration and Art Direction work world.
I don't pretend to be the new Visual Art promise, but I know I am on my way.